Bags
Product Announcement from Advanced Poly-Packaging, Inc.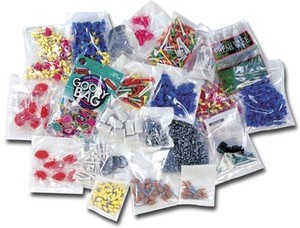 We've always offered dozens of stock bag sizes - usually available for shipment within hours of your order. Now, we're making that list even longer with the addition of Clear/White Combo Bags as a stock item. Some of the most common sizes are no longer a customer order!
Sometimes we simply make too many bags ... and now we're offering them to you at a discount! Save up to 50% on our overstock bags. You can find a partial list on our Web site, but call Tammy Huffman at 800.754.4403 if you're looking for a bag you don't see on the list.
We're helping our customers who want to help the environment with Advanced Poly-Green film. 100% degradable film....durable enough to hold your product, but with the correct molecular make up to complete degrade and leave no detectable trace of plastic. The process is enhanced with exposure to heat, sunlight or dampness.
Advanced Poly-"Green" is available in Clear, Green, White Opaque and Black. The proprietary resin blend does not impact the ability to print on the bag or the quality of any barrier features!
Advanced Poly-Packaging should be your one-stop-shop for bags. Our bag specialists will provide a quote for the correct bag for your application...graphic designers will make it look perfect....quality control will inspect for quality....and you'll save money!
Custom bags are our specialty - but dozens of stock bags are available, too. Ask about our blanket stocking program (for stock or custom bags) to lock in our low price and always have bags ready for you!
---