LC-10 Light Safety Curtain
Product Announcement from Advanced Poly-Packaging, Inc.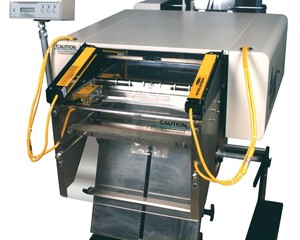 Advanced Poly-Packaging, Inc. announced the release of an improved version of its LC-10 Light Safety Curtain.
The OSHA-approved LC-10 Light Safety Curtain restricts the cycle operation of a bagger when the optical detection field is obstructed. The new component of the accessory shuts off the air supply that's used to power the seal bar.
"The basic safety and productivity aspects of the Light Safety Curtain speak for themselves," said Advanced Poly-Packaging Vice President of Sales Stuart Baker. "The new air shut-off features increase safety even more."
The original version of the device would choke the air supply only when something such as a hand or a product being bagged prevented the seal bar from making contact with the bag. Now the supply is cut off every time something is moved across the optical detection field. Baker said the elimination of 60psi (when used with the T-1000 Advanced Poly-Bagger™) any time an operator's hand is in the way, will improve the overall safety of the operator.
Baker said the LC-10 includes several program updates that prevent the safety features from compromising production:
Any interruption is automatically recognized which allows the cycle to continue when the problem is corrected, rather than starting from the first position by manual manipulation
Bag indexing is not affected
Time Out feature allows power shut-off if the seal area is blocked for a predetermined period of time to prevent continuation of automatic cycling
"This is just one more example of our continuous effort to improve equipment," said Baker. "We're making it faster and safer at the same time."
About Advanced Poly
Advanced Poly-Packaging, Inc., a leader in the manufacturing of packaging machinery and poly bags, offers a complete line of bagging and auxiliary equipment that includes tabletop baggers, production bagging machines and fully automated custom bagging systems for a wide range of packaging solutions in the medical, pharmaceutical, hobby/craft, jewelry, fastener, tool and other industries. In operation since 1979, the company's capabilities include film extrusion, flexographic printing, graphics design and poly bag conversion to produce custom high-quality poly bags. The company produces custom bagging solutions offering its engineering, custom programming and technical service capabilities to customers. Advanced Poly-Packaging is headquartered in Akron, OH and coordinates European sales and distribution from a satellite office in England.
---