Mounted Ball Bearing Units
Product Announcement from ABT Bearing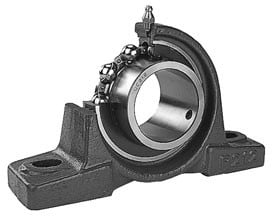 ABT's mounted bearing units are compact in design with sealing devices that ensure long-lasting performance. Standard bearing inserts have spherical ODs enabling them to self-align in outer housings. Pillow blocks have solid base construction for ultimate strength and rigidity. Standard housings are constructed of high quality grey iron. All units have heavy-duty contact-type seals with a protective metal shroud or slinger on both sides. Long bearing life can be achieved by selecting the type of seal best for the application and operating condition.
Dual seals are standard. A synthetic rubber oil seal is fixed in the outer ring, sealing against the OD of the inner ring. A steel slinger is fixed to the inner ring, rotating with the shaft and protecting the inner seal and bearing from contaminants.
Also available are triple lip seals that protect against contamination in severe environments. They consist of a synthetic rubber seal protected with a steel shield fixed in the outer ring with three separate sealing lips wiping the inner ring OD. Triple lip seals are specified by adding the suffix "R3" to the model number.
Shaft sizes less than 2" have clearance fit-ups. Shaft sizes that are 2" and above have light interference fit-ups.
Shaft Locking Collars
Standard units utilize either set screws or eccentric locking collars to grip the shaft. Set screw locking units employ two knurled cup point set screws placed 120° apart. Special heat-treating of the inner ring maintains toughness around the set screw and provides secure tightening. Eccentric locking collars provide locking for one directional applications. Concentric split locking collars provide locking for bi-directional applications and are available on request.
Grease Specifications
Bearings are supplied 35-40% filled with lithium based NLG1 #2 grease and should be relubricated with a compatible grease.
All units can be relubricated through the grease fitting provided. The outer housing grease hole mates up with the bearing insert groove, which channels grease into the bearing.
Temperature Limits
Units are designed to operate at full rating at temperatures of -40°F to 250°F. Special lubricants should be considered for temperatures beyond this range.
Packaging
Mounted bearings and inserts are typically sealed in plastic bags and packaged in separate cartons.
---