CAY-1030 Multi-purpose slip ring assemblies
Product Announcement from Cobham Slip Ring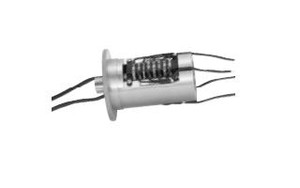 These multipurpose assemblies were designed for use over a wide range of speeds and for applications requiring long life and low noise. Featuring a 1/2" thru bore and one piece housing, these units are compact in design and are easily mounted to fit any system. These capsules can transmit signals less than 1mA/ring up to a maximum of 5 amp/ring. All units are "run in" and fully tested prior to shipment, and a copy of Test Data accompanies each unit.
MECHANICAL

1. Frame: Aluminum
2. Rings: Coin Silver
3. Brushes: Silver Graphite, two/ring
4. Leafs: Beryllium Copper
5. Speed: 0-5,000 rpm
6. Ball Bearings: Stainless steel, shielded
7. Torque: .03 in. lb per ckt. approx
8. Rotation: Bi-directional.
9. Life: 50 million revs. min.
ELECTRICAL

1. No. of Rings: 30 max.
2. Current: 0-5 amp per ring standard (15 amp avail.)
3. Voltage: 250 volts DC
4. Dielectric Strengths: 500 volts rms (All Combinations)
5. Contact Resistance Variation: 10 milliohms @ max speed
6. Leadwire: #22 awg, 24" lg. both ends
---