DAY-490-499 multi-purpose slip ring assemblies
Product Announcement from Cobham Slip Ring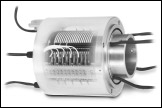 These assemblies, designed for use in commercial equipment, have been used in applications ranging from thermocouples to the transmission of medium power. They feature coin silver rings, silver graphite brushes, convenient terminals on both the slip ring and brush blocks, and a rotor design which allows the leadwires to be exited through the shaft bore, or under the bearing when a shaft clearance hole is required. The 1.5" shaft extension can be modified to meet any mounting arrangement. The wide variety of sizes and configurations available, including "in-between" shaft diameters, allows the designer to select a standard assembly for his application, eliminating time consuming and costly design charges.
MECHANICAL
1. Frame: Aluminum
2. Rings: Coin silver
3. Brushes: Silver Graphite
4. Leafs: Beryllium copper
5. Brush/Ring Termination:
Assemblies with 30 rings or less have standard screw terminals on the brush blocks and solder posts on the slip rings. Contact factory for specific information on other assemblies.
ELECTRICAL
1. Current: 10 amp per ring, standard. 20 amp per ring available. Custom assemblies with up to 100 amp per ring rating have been built.
2. Voltage: 250 volts maximum AC or DC
3. Dielectric Strength: 750 volts rms (all combinations).
4. Insulation Resistance: 50 megohms minimum at 500 VDC
5. Contact Resistance Variation: 10 milliohms maximum at maximum speed
6. Leadwire: Contact Factory
ENVIRONMENTAL
1. Operating Temperature: 0 to 250° F
2. Humidity: 95% maximum
You have successfully added from to your part list.
---