AHC Family of SMA Attenuators
Product Announcement from Aeroflex / Inmet, Inc.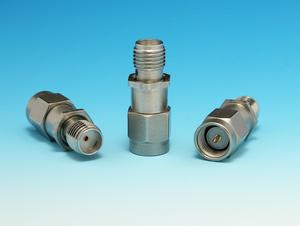 Designed for volume applications and available from stock, Inmet's AHC family of SMA attenuators offer performance at truly affordable pricing. These 2 Watt units operate from DC to 6 GHz with a 1.20:1 VSWR while providing excellent attenuation flatness. Ideal for Wireless LAN, Wireless infrastructure, E-911 Kits, WiFi and Indoor Distribution Applications, the robust design has been qualified to the shock and vibration profiles required in MIL-A-3933.The units are RoHS compliant and are offered in dB values of 1-12, 15, 20 and 30 dB.
Aeroflex / Inmet is a manufacturer of rf, microwave and wireless components including attenuators, terminations, cable adapters, bias tees, DC blocks, and gain equalizers.
---