Express Overnight Shipment Via Argosy Sales
Product Announcement from Aeroflex / Weinschel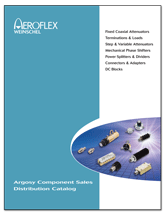 Aeroflex / Weinschel has partnered with Argosy Component Sales to provide unmatched availability of high quality RF and microwave components. As Aeroflex / Weinschel's sole product distributor in North America, Argosy carries a robust inventory of attenuators, terminations, adapters and planar blind mate connectors. Argosy ensures responsive customer service and rapid shipment anywhere in North America.
Argosy Component Sales is increasing the efficiency and speed with which we respond to your component needs. Your application and engineering questions should still be directed to our headquarters in Maryland.
Just dial our existing EXPRESS number (1-800-542-4457) OR visit our website www.argosysales.com, and your order will automatically be processed by Argosy's state-of-the-art distribution facility. An Argosy sales representative will take orders between the hours of 7 am to 4:30 pm Pacific Standard Time, or you can visit our website 24 hours a day, seven days a week. You will receive immediate confirmation of the product availability, pricing and delivery information.
---