Medium Power Coaxial Termination
Product Announcement from Aeroflex / Weinschel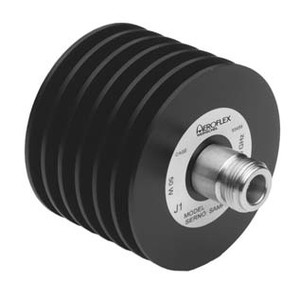 CONNECTOR: Type N connector per MIL-STD-348 interfacedimensions - mate nondestructively with MIL-C-39012connector. Choice of male (-4) or female connector (-3).3.5mm connector mate nondestructively with SMA per MILC-39012, 2.92mm, 3.5mm and other SMA connectors.Choice of male (-2) or female connector (-1).CONSTRUCTION: Black, finned aluminum body, stainless steel connector; gold plated beryllium copper contacts.
Features
Designed to meet environmental requirements of MIL-D-39030.
Rugged injection molded connector.
1 Kilowatt Peak Power
POWER RATING (mounted horizontally): 50 watts average to 25°C ambient temperature, derated linearly to
5 Watts @ 125°C. 1 kW peak (5 μsec pulse width; 2.5% duty cycle).
POWER COEFFICIENT: <0.0006 dB/dB/watt
TEMPERATURE COEFFICIENT: <0.0004 dB/dB/°C
TEMPERATURE RANGE: -55 °C to 125 °C
TEST DATA: Test data is available at additional cost.
---