Programmable Attenuators & Switch Units
Product Announcement from Aeroflex / Weinschel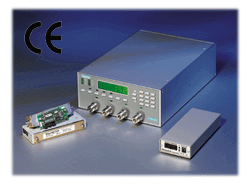 Aeroflex / Weinschel's Programmable Attenuator and Switch Units represent a new concept in programmable attenuation and switch for bench test and subsystem applications.
Standard designs house and control various Aeroflex / Weinschel Programmable Attenuator Models (3200T, 150T, and 4200 Series) via front panel controls or standard communications interfaces including ethernet, GPIB (IEEE- 488) and RS-232/RS-422 /RS485. This series combines the features of the Aeroflex / Weinschel 8210A Device Controller with a front panel interface.
Multi-channel attenuation and switching units are available for cable and mobile wireless test applications, including RF simulation, multi-path and fading, high-power hot-switching attenuation, RF signal conditioning and production testing.
---