Hard Coat Anodizing
Service Detail from Aerospace Defense Coatings Of Georgia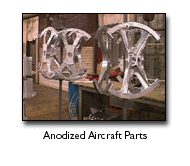 Hardcoat Anodizing (Type III) is performed by submerging the component in an acid bath electrolyte solution. The anodic oxide build up actually penetrates the part or component as much as it builds up on the surface. Some benefits are:
Corrosion Resistance
Abrasion Reistance
Electrical Resistance

For Hardcoat Anodizing we adhere to:

AMS 2482: Hard Coating Treatment of Aluminum Alloys Teflon-Impregnated Or Codeposited

CSFS020: Anodize, Chromic Acid, Sulfuric Acid and Hard Coat
All Hardcoat Anodizing processes are performed manually to ensure the proper care is given to each step.

---