Blowers Vacuum Booster - Positive Displacement
Product Announcement from Aerzen USA Corp.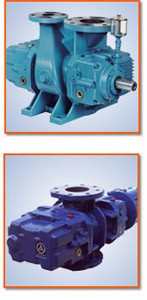 Aerzen's Vacuum booster blowers are available from 50 to 56000 cfm in either direct drive, with or without variable speed drive, or belt drive configurations. Rugged drive arrangement for high delta P applications and O-ring construction for leak tightness at High Vacuum conditions. High volumetric efficiency to maximize performance; quiet and reliable operation.
Features and Benefits
Aerzen rotary positive displacement Vacuum Booster blowers are designed and manufactured by state-of-the-art techniques to achieve a high level of reliability and safety in operation.
All components of the blower housing are mated with O-ring seals in machined grooves. O-ring sealing is used to provide a reliable level of leak tightness to 10-5 mbar absolute. Tight sealing of housing components is critical in vacuum service for maintained pumping performance. It is also important when reactive gasses are being pumped and exclusion of air is desired. The O-ring seals are normally supplied in Viton.
Inlet and discharge flanges of the Vacuum Blower are flat faced to accommodate sealing against O-ring grooved mating flanges or flat gaskets. The four main shaft seals are dry-running, non-contact restrictive piston rings labyrinth seals. The practical limit of operation for vacuum boosters is a multi-stage setting of 10-3 mbar absolute.
Canned-motor units without drive-shaft seal can be driven with or without variable speed drive.
---