Process Gas Blower- GR Type
Product Announcement from Aerzen USA Corp.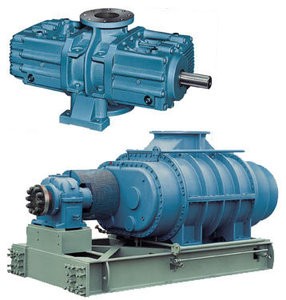 Aerzen Process Gas Blower
The conveying chamber of the Gas Blower type GR/GRa/GRb is completely separated from the oil pumps by a space open to the atmosphere. Shaft sealed by a system of pressure that relieve soft packings with carbon ring-labyrinth seals, and water- and oil-purged by double-acting mechanical seals. Vertical direction of flow from top to bottom. Drive directly via flexible coupling or flexible spur gear, alternatively via narrow V-belt (up to 250 kW). Designs in special materials possible.
Type of construction Positive Displacement Blowers
Volume flow 100 up to 50.000 m³/h
Size 12
Medium industrial gases which may also be aggressive
Conveying oil-free
Pressure operation Differential pressure at pressure operation up to 800 mbar
Suction operation Differential pressure at suction operation up to 450 mbar
---