Product Announcement from Aerzen USA Corp.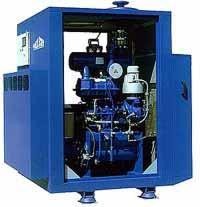 Aerzen Single-stage Screw Compressor units are excellent for dry and clean compression of air and neutral gases.
Installation
The packages are delivered completely assembled, allowing their prompt and trouble-free installation. Installation procedures at site are limited to the connection of the power supply and plant piping resp. filling-up of oil. The standard package designed for pressure mode operation sucks in ambient atmospheric air through a filter. In vacuum mode and nitrogen operation, the intake filter is substituted by a suction silencer of pipe connection. An additional expansion joint with tie-rods ensures stress-free intake connection to plant piping. The standard package is designed to accept motors having IP 55 type of protection.
In the case of packages equipped with an acoustic hood, the electrical wiring as well as the motor contactor and pushbuttons can be installed in the standard instrument panel (only applies for machines with gearbox).
Application fields and use
The units are specifically designed to match practical requirements in the field. They are the ideal solution for the dry, oli-free and clean compression of air and neutral gases as required e.g. in the following application fields:
Pneumatic conveying with air or nitrogen
Aeration of sewage basins
Homogenising of cement
Vacuum production in the glass industry
Prevention of ice build-up in harbours and lakes
Oil booms
Gas-air mixing plants
Oxidation air for power stations
Stationary unloading of silo vehicles
Vacuum production in the paper industry
Conveying and compression of neutral gases
Blast air for production of spunbonded web
You have successfully added from to your part list.
---