Screw Compressors - Oil Injection
Product Announcement from Aerzen USA Corp.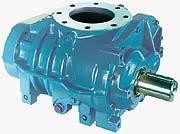 Aerzen VMX-screw compressors with oil injection are designed for intake flow volumes from 70 up to 3180 m³/h at driving speeds of 50 resp. 60 Hz and an overpressure - single-stage - up to 13 bar (higher pressures or admission pressure operation upon request).
The drive is effected via V-belt resp. toothed belt or directly via a flexible coupling from the driving motor to the male rotor of the air end. Drive by electric motors or internal combustion engines. All stages are suitable for frequency converter-operation (standard).
VMX screw compressors are supplied as components to manufacturers of mobile and of stationary air compressor plants who produce themselves the accessories or plant components- as oil coolers, oil separators, base frames, etc. - and carry out the final completion of the whole plant unit.
---