Turbo Blower.. centrifugal compressors
Product Announcement from Aerzen USA Corp.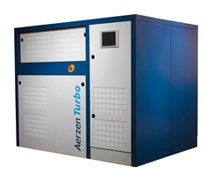 Aerzen USA - Turbo blowers are highly efficient low pressure centrifugal compressors for oil-free compression of air. The high-speed turbo blower consists of a single motor-impeller assembly with unique bearings lubricated by air. A pressure rise is created by converting the kinematic energy (speed) from the impeller into potential energy (pressure) in the diffuser.
The operating range, up to 330 m³/min (11.700 cfm) at 400 to1.500 mbar (6 to 22 PSI), is ideal for waste water treatment applications.
The impeller, motor, bearing and VFD are designed in-house for optimum harmonisation and are the key to our high efficiency.
---