CGV-S Cantilever sump pumps
Product Announcement from Affetti Giuseppe & C. s.n.c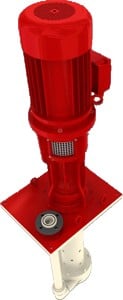 The CGV-S range of cantilever pumps was designed to meet a demand for vertical pumps that could operate without any risk of damage to the shaft guide bushings from abrasive solid particles contained in the fluid or from dry running, such that the design does not foresee any guide mechanisms close to the impeller.
The carbon steel 39NiCrMo3 pump shaft coated in corrosion-proof plastic, assembled in a cantilever manner and guided by strong bearings housed in the cast iron intermediate adaptor, is connected to the motor with an elastic coupling.
All parts in contact with the fluid pumped are made of thermoplastic material (PP-PVDF-PEHD-PE/UHMW); column length available ranges from 500 to 1500 mm.
ATEX 94/9/EC certificates are available for the CGV-S range.
General characteristics
- Suitable for pumping corrosive fluids containing solid particles
- Solid construction
- Low maintenance costs and ease of repair
- Shaft attached to the motor with an elastic coupling,cantilever design,
without guide bushings
- Motor and plate distanced by an intermediate adaptor
- Dry-run operation is possible
- Can be certified to ATEX 94/9/EC
- Column length from 500 to 1500 mm
- Painting of motor and metallic parts: 50/80 μm epoxy primer plus 70/80 μm coat of polyurethane RAL 3001 red
Materials
- Parts in contact with the fluid pumped made of PP - PVDF - PEHD
- O-rings and seals in EPDM - FPM - FFKM
- Shaft in thermoplastic-coated 39NiCrMo3 steel
Working temperatures
- PP 0° C + 80° C
- PVDF -10° C +100° C
- PEHD -5° C + 70° C
Accessories
- Flanged connection on discharge line
- Motor rain guard
- Filter on suction line
- Extension pipe on suction line
- Guide bushing washing fitting
You have successfully added from to your part list.
---