Agilent 2100 Bioanalyzer
Product Announcement from Agilent Technologies, Inc.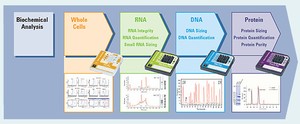 The Agilent 2100 Bioanalyzer is a microfluidics-based platform for sizing, quantification and quality control of DNA, RNA, proteins and cells. Results are delivered within 30-40 minutes in automated,
high quality digital data.
Miniaturization of analytical instrumentation has many advantages over conventional techniques. These advantages include improved data precision and reproducibility, short analysis times, minimal sample consumption, improved automation and integration of complex workflows.

Launched in 1999, the Agilent 2100 Bioanalyzer was the first commercially available instrument to use microfluidics technology for the analysis of biological samples. Today, the Bioanalyzer offers a broad range of pre-validated analysis kits combined with an easy-to-use benchtop system.
On-chip flow cytometry
The easy way to acquire dual-color, cell-based fluorescence data
RNA quality check with RIN
The industry standard for RNA analysis offering total RNA, mRNA
and Small RNA's data including RIN algorithm (RNA Integrity Number)
DNA size and quantity
Smart, high resolution separation and quantification of DNA Highly
sensitive DNA sample QC for next generation sequencing experiments
SDS-PAGE replacement for protein analysis
The fast and reliable way to determine the quantity and
purity of proteins from Coomassie down to silver stain sensitivity
---