Agilent 5975C Series GC/MSD
Product Announcement from Agilent Technologies, Inc.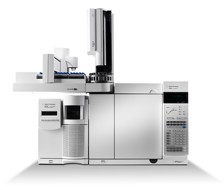 Performance, productivity and confidence.
Welcome to the next generation of the industry-proven Agilent 5975 Series MSD -- the most popular GC/MS of all time. The Agilent 5975C inert MSD with its Triple-Axis Detector gives you innovative design features to boost your lab's productivity and advanced analytical capabilities that enhance your results-and your confidence. In addition to delivering better MS resolution and the lowest mass deviation available, the system offers superior sensitivity and spectral integrity. Advanced analysis routines let you get more information from every run, and the latest version of automated spectral deconvolution, identification, and quantification software provides higher quality analyses with even less operator time and attention.
Features:
Inert ion source-now programmable up to 350˚C-delivers enhanced response for active compounds and late eluters
Proprietary hyperbolic quadrupole enhances performance up to 1050 u; the unique stability of the quartz monolith allows the analyzer to be heated to 200˚C to eliminate contamination commonly seen at lower temperatures
Triple-Axis HED-EM Detector provides the market's highest signal-to-noise specification (1 pg OFN, 400:1)
Trace Ion Detection and the second generation of Deconvolution Reporting Software (DRS) accurately identify and quantify trace components that coelute with other analytes or matrix peaks
Synchronous SIM/Scan mode lets you selectively monitor for ions of interest with high sensitivity SIM while simultaneously acquiring library-searchable scan data
Safe operation with low cost, hydrogen carrier gas-with sensitivity greater than most other GC/MS systems
All ionization modes (PCI, NCI and EI) in one automated sequence using the standard Cl source; AutoCI feature makes CI as easy as EI
High performance and entry level models that are perfectly complemented by the Agilent 7890A GC, 6890 GC, and 6850 GC
MSD Productivity ChemStation for most laboratories and MSD Security ChemStation for laboratories adhering to FDA's 21 CFR Part 11 guidelines
---