Agilent's Encore Multispan System
Product Announcement from Agilent Technologies, Inc.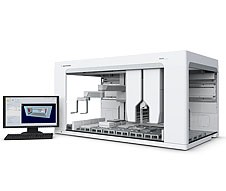 Agilent's Encore Multispan System combines innovative multispan pipetting ability, with the off-deck reach of a built-in robotic arm and intelligent software control for game changing workflow automation, productivity and throughput.
The robotic arm reaches up to 53 cm (21 in) off deck making it easy to automate entire workflows – both up and down stream. The flexible multispan pipetting with independent X and Y axis motion reaches more samples across the deck at any given time. The intelligent software enables researchers to visualize and optimize their protocols prior to any instrument movement. The ability to integrate more of your workflow with a single platform means less complexity and the highest levels of efficiency and throughput for your laboratory.
Flexible multispan pipetting – Eight pipettors (with variable spacing) mounted on dual gantries deliver independent X and Y-axis motion to reach more samples across the deck and enables transfers between tubes and plates
Built-in robotic arm with labware gripper – Reaches up to 53 cm (21 in) off deck for end-to-end automated solutions and more walkway time
Intelligent software – Plan, visualize and optimize your protocols using 3D simulator and easy-to-use drag and drop interface
More on-deck positions – A combination of 32 deck positions, 24 pipette accessible plus 8 for labware storage, enable complex multistep tasks
Factory-calibrated pipettors – with pretaught deck positions, streamline the start up process
Wide range of applications – including genomics, proteomics, cell biology, screening, ADME/Tox and more
---