Smarter, Faster, Brighter 2nd Gen SUPERNOVA
Product Announcement from Agilent Technologies, Inc.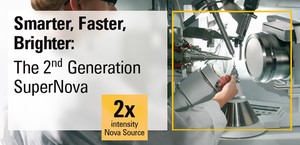 With more than double the Cu X-ray intensity, CSD cell check tools and real-time email notifications, the Agilent SuperNova with CrysAlisPro is better than ever.

The new Nova X-ray source generates more than double the diffracted intensity and significant gains in data quality.

• Up to 2.3-fold intensity increase in observed data
• Improved signal-to-noise (up to 50%)
• Stronger data at high resolution
• Faster experiments

CrysAlisPro now features CellCheckCSD, a new software tool developed jointly by Agilent Technologies and the CCDC. CellCheckCSD enables users to automatically check their pre-experiment unit cell against the Cambridge Structural Database (CSD), the world's repository of small molecule crystal structures, before collecting a full diffraction dataset.
• Save diffractometer time - avoid the unintentional collection of a known structure.
Stay in touch with your Agilent X-ray system wherever you happen to be with real-time email notifications from CrysAlisPro.

• Fully customisable alerts at specific points in the experiment.
Why not test the new and improved SuperNova with your own samples? Click HERE to request a product demonstration, quote or further information.
---