Turbo-V 750 TwisTorr Pump - Powerful and Compact
Product Announcement from Agilent Technologies, Inc.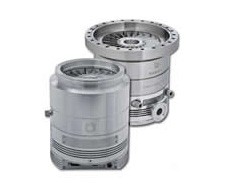 Powerful, Compact Turbo Molecular Pump
The Turbo-V 750 TwisTorr pump offers the highest pumping speeds in its category for all gases. Utilizing leading-edge TwisTorr technology, the pump achieves the highest compression ratios for light gases in a commercially available turbo molecular pump. Even with offering the highest performance to date, average power consumption by this new drag section design is reduced by at least 20% compared with previous designs. Agilent is proud to bring you the finest in turbo molecular pumps with the Turbo-V 750 TwisTorr.
Features:
Advanced rotor design in combination with TwisTorr technology reduces the number of pumping stages by 30%
Our unique monolithic rotor reduces material stress and improves assembly tolerances
Electrical motor reduces start-up time and improves pump stability under changing gas load conditions
Higher vacuum performance with lower heat dissipation
Advanced water cooling system
Optimized air cooling system
Clean maintenance-free vacuum
---