Product Announcement from Air Clear LLC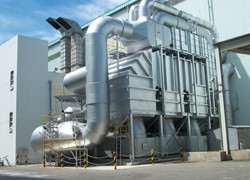 Air-Clear's ThermGen™ Regenerative Thermal Oxidizers (RTO) are the most energy-efficient, cost-effective solutions for the reduction of VOCs and odorous air emissions…here's why:
Ceramic energy recovery beds capture and reuse up to 95% of the systems energy. The result is low fuels cost.
Heat released from the oxidation of the VOCs is also captured in the recovery beds which further helps reduce supplement fuel use. In fact, with a VOC concentration of about 3% of the LFL the ThermGen™ RTO is self sustaining, that is no supplement heat input is required.
Requirements for MACT, BACT, LAER and RACT making it the preferred oxidation technology for many applications.
Highly effective at reducing VOCs by means of thermal oxidation, eliminates as much as 99% of the VOCs meeting the EPA requirements for MACT, BACT, LAER and RACT making it the preferred oxidation technology for many applications.
"In house" fabrication …from controls to reactors…insures customers that Air-Clear maintains quality and schedule control over their projects.
Seamless interface between its customers process and the ThermGen™ RTO with PLC tailored to the processes operation.
Flexibility when selecting system components such as structured vs. random heat recovery media, burners vs. electric heating elements and carbon steel vs. alloy construction gives customers the best of both worlds, proven technology custom tailored to their specific project conditions.
"Dirty" process streams are controlled using a variety of pre-filter(s)and media "bake clean" option
FAT- Factory Acceptance Test - reduces commissioning and start up time by running a thorough diagnostic system check PRIOR to shipment.
Air-Clear has extensive knowledge of various materials of construction and metallurgies to insure long-term system performance and reliability, especially when working on Chlorinated applications.
Air-Clear quench / scrubbers are used to remove acids such as HCL, HbR H?SO? when formed during the oxidation reaction.
Secondary Heat (energy) Recovery (SHR) systems to provide for positive payback from the abatement equipment.
You have successfully added from to your part list.
---