Product Announcement from Air Clear LLC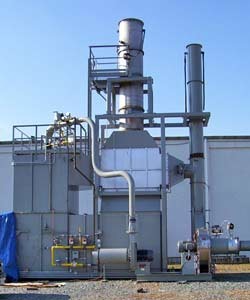 Why Air-Clear Thermox™ Recuperative Thermal Oxidizers.
Proven technology for oxidation of volatile organic compounds (VOCs) and for the control of odorous emissions with greater than 99% efficiency!
Recognized as the Best Available Control Technology (BACT) and Maximum Control Technology (MACT) for many industrial process
Thermox™ Recuperative Thermal Oxidizers reduce energy costs by using a pre-heater (heat exchanger) to recover the heat from the post oxidized air to preheat the incoming process air. Further savings can be gained with a secondary heat recovery or 'economizer"
Recuperative –meaning to recover and restore
The Thermox ™ Thermal Oxidizer is designed to provide reliable stable operation over a wide range of process conditions
Small or large flows as well as multiple sources feeding one thermal Oxidizer can utilize thermal oxidation to control emissions. The Thermox ™ is also an excellent choice for intermittent ON-OFF use.
Thermal oxidizers can rapidly adjust to changes in VOC loadings. When equipped with a
High Temperature Bypass Valve (HTBV)
Flexibility - Custom design-meets your specific project objectives at the lowest cost possible
Best Value

Air-Clear relies on a network of world class providers of specialty components selected by its Engineers for integration into cohesive system. Suppliers are selected based on the design features, quality of construction, and cost competitiveness. In addition Air-Clear Fabricates internally, eliminating the cost mark ups passed on by subcontracted fabricators.
You have successfully added from to your part list.
---