Chemical Injection Fire Suppression System
Product Announcement from Air-Cure Incorporated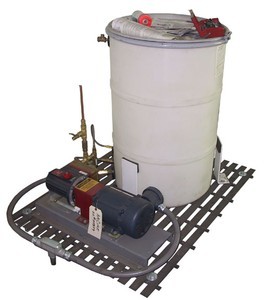 This system is designed to inject a chemical enhancer to decrease the time to extinguish a coal fire, increase safety, and decrease potential equipment damage.
In the event a fire does occur inside a dust collection filter, the fire protection system (sprinkler system) will activate. With Air-Cure's Chemical Injection System, a small amount of F-500(tm) chemical is metered into the fire water. This chemical has been shown to aid in penetrating coal dust accumulation and extinguish quicker than just water.
This F-500(tm) chemical is already used by many power plants in their bunker and silo area fire suppression systems.
The Chemical Injection System is compact and can be mounted in the heated support enclosure of your dust collector, or in a heated area close to the fire suppression system.
The Chemical Injection System features:
Compact design
Corrosion resistant chemical tank and fittings
3/4 HP metering pump
Prepiped on base
Electrical Controls
---