Fastening vs. Welding
Product Announcement from Alcoa Fastening Systems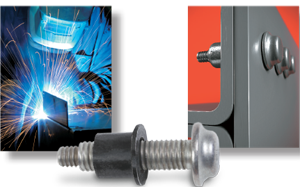 While welding has long been utilized in applications requiring a secure joint, today, there are several strong reasons to consider a proven alternative. That alternative is direct-tension, swaged on HuckBolts® from Alcoa Fastening Systems.

Fastening with vibration-resistant HuckBolts instead of welding offers five key benefits over welding:
Safety – welding can be dangerous due to the chance of fires from a random spark. Spent rods and other remnants can cause safety hazards on the assembly floor, and interferes with worksite organization and cleanliness.
Simplicity – HuckBolts are easy to install.
Speed – HuckBolts offer lightning quick installation.
Cost-Savings – HuckBolts don't require costly skilled specialists to install. All they need is a quick visual inspection to ensure a solid joint.
Structural Integrity – HuckBolts offer Huck's famous high level of vibration-resistance, meaning a strong joint that will perform for years to come.
Faster. Safer. Simpler. More cost-effective. And proven over more than 30 years of performance in the brutal trucking and rail industries. Find out why so many forward-thinking design engineers have made the switch from welding to HuckBolts.
---