Nickel, Cobalt and Specialty Alloys
Product Announcement from All Metals & Forge Group, LLC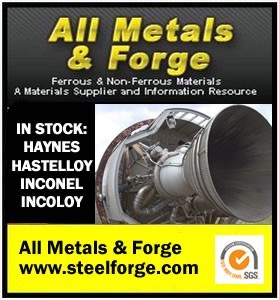 Haynes 188 AMS 5608 and Haynes 230 AMS 5878 plate, sheet, tube, bar and forgings available from All Metals & Forge. These high-strength cobalt-based alloy products have superior corrosion resistance and high temp advantages, ideally suited for aerospace, defense, & power generation. We stock a complete line of other trademarked, commercial grades - Inconel, Incoloy, and Hastelloy...
These special grades of material are available in various shapes and sizes: Tube, Sheet, Strip, Plate, Bar, Disc, and Shaft, Forgings, all manufactured according to your specifications . They and also can be supplied in billet form for custom Open-Die Forging and Seamless Rolled Rings (up to 160"/4050mm Diameters & Weights up to 15000 lbs/6800 kgs).
Quick Links:
Forging Capabilities:
Materials that we forge include carbon steel, alloy steel, tool steel, special grades, stainless steel (including PH grades), titanium, aluminum, nickel, cobalt, high temperature, super alloys and special alloys and more.
Custom Hand Rolled Bars
All Metals & Forge can now provide custom hand rolled bars in a variety of sizes and shapes from tool steels, nickel alloys, high temperature alloys, high speed steels, alloy steels, stainless steels, titanium, cobalt alloys, manganese steels, and super alloys.
Custom Melting and Designer Alloys™
All Metals & Forge, LLC can now supply Air or Vacuum Melted Designer Alloys™ in the below listed material families
ALLOY STEELS, CARBON STEELS, COBALT ALLOYS, NICKEL ALLOYS, STAINLESS STEEL (300 - 400 - 500), STAINLESS PH GRADES, TOOL STEELS
Value Added Services
COLD & HOT FORMING - Martensitic, Ferritic, Austentic, Springback, Rod, Bar & Wire.
HEAT TREATING - Quenching, Annealing, Normalizing, Tempering, Surface (Case) Hardening, Sub-Zero Annealing, and other heating and cooling processes.
CUTTING - Abrasive Saw Cutting, Cold Shearing, Melting, Thermal, Plasma & Powder Cutting, Arc-Air Gouging, Waterjet, Laser Cutting, Cambering, Custom Shapes.
MACHINING - Drilling, Milling, Reaming, Sawing, Tapping, Threading, Turning, Boring, Trepanning, Duplex Milling, Blanchard & Double Disc Grinding.
EXTRUSIONS - Produced to your custom configuration.
ROLLING & WELDING - To make rings, cylinders, tubing & pipe. AM&F can also roll flat bar the "Hard Way".
POLISHING - Sheet, strip, plat flat bar, discs
About All Metals & Forging, LLC.
PARTNERING This industry trend is shaping the way All Metals & Forge does business today. We are developing closer customer relationships and taking on a larger role in the total supply and manufacturing chain. A closer connection with our customers is key. Our ability to anticipate customer needs, willingness to become involved with their business, and ability to respond quickly and cost effectively has established All Metals & Forge as a premier vendor. Today we forge relationships that create AM&F Solutions®.
All Metals & Forge Capabilities include:
Complete Forging Manufacturing
Extensive Line of Warehouse Products
You have successfully added from to your part list.
---