Surprisingly Affordable Highest-Quality Forging
Product Announcement from All Metals & Forge Group, LLC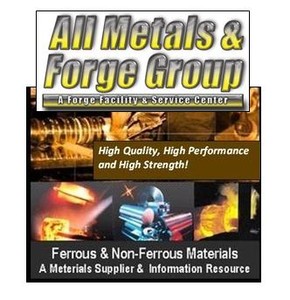 From All metals & Forge Group: Highest-Quality Forging that is Surprisingly Affordable...check usp out...
Alloy Steels , Aluminum Alloys, Carbon Steels, Copper Alloys, Magnesium Alloys, Nickel Alloys, Cobalt Alloys, Special Alloys and Super Alloys, Refractory Alloys, Stainless Steels & PH Grades, Titanium Alloys, Tool Steels, Zirconium - All Metals & Forge does it all...
Alloy Steel
4000-6000: 4015 , 4017 , 4020 , 4023 , 4037 , 4085, 4112, 4115, 4120, 4125, 4127, 4130, 4135, 4140, 4142, 4145, 4150, 4155, 4160, 4215, 4320, 4335, 4340, 4615, 4620, 4630, 4640, 4720, 5150, 52100,
Alloy Steel Special Grades:
Aluminum:
Carbon Steel:
Copper Alloys:
Magnesium Alloys:
Nickel, Cobalt, Special Alloys:
Stainless Steel:
254 SMO, 2205 Super Duplex
Stainless Steel PH Grades:13-8MO, 15-5PH, 15-7MO, 17-4PH
Titanium Alloys:
Commercially Pure, CP Grade 1, CP Grade 2, CP Grade 3, CP Grade 4, CP Grade 7, CP Grade 11, CP Grade 12
4AL-3MO-1V, 4AL-4MN, 5AL-2.5SN, 6AL-2SN -4ZR-2MO, 6AL-2SN -4ZR-6MO, 6AL-4V, 6A1-6V-2SN, 7AL-4MO, 8AL-1MO-1V, 13.5V -11CR-3AL, Ti17,
Tool Steel:A2, A6, A10, D2, D3, D5, D6, H11, H12, H13, H21, H26, H43, M2, P20, S1, S5, S7, T1, W1, W2
About All Metals & Forging, LLC.
PARTNERING This industry trend is shaping the way All Metals & Forge does business today. We are developing closer customer relationships and taking on a larger role in the total supply and manufacturing chain. A closer connection with our customers is key. Our ability to anticipate customer needs, willingness to become involved with their business, and ability to respond quickly and cost effectively has established All Metals & Forge as a premier vendor. Today we forge relationships that create AM&F Solutions®.
You have successfully added from to your part list.
---