2.2" TFT Display Transflective LCD Modules
Product Announcement from All Shore Industries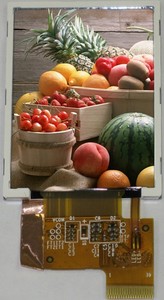 ASI Displays - This 2.2" TFT Transflective LCD is simply another example of ASI's dedication to both quality and initiative. ASI-T-22013A1GT/D features a 320 x RGB x 320 resolution along with a Transflective special polarizer, making it vibrant to see even in direct sunlight. Applications include mobile navigators, video systems or any other product with a need for outdoor use. The module has an outline dimension of 47.4 x 51.85 x 3.5mm with an active area of 39.36 x 39.36mm. Samples and production quantities available now.
So ASI now has aResistive touch panel version, ASI-T-22013A1GT/D to complement it's existing it's RGB designs, ASI-T-2201DA0EN/D.
ASI has a variety of TFT displays ranging in size from 1.44" to 12.1" to suit your needs. Resistive and capacitive touch screens available on most units. Some modules available with controller on board as well. Details for these as well as other TFT and Monochrome displays may be seen on their web site ASI Displays.
Please also visit our website for a listing of our standard OLED displays, available in production quantities now.
"Our flexibility and experience ensures the highest quality product at a price that can compete with the world," says president of ASI Norman Goldner. That experience has given ASI the ability to not only innovate, but also replicate success with the development of other TFT models. Goldner further solidifies ASI's place as an industry leader by noting that the combination of US engineering and Asian manufacturing allows the company to cater to virtually any specification and adhere to any timeline.
With over 30 years of experience in the electronics manufacturing industry, ASI is able to offer a blend of creativity and reliability.

Contact:
Norman Goldner
All Shore Industries, Inc.
Phone: (718) 720-0018
Email: sales@allshore.com
http://www.AllShore.com
All Shore Industries, Inc. is a global electronics manufacturing company offering high volume manufacturing of standard and custom electrical and mechanical products including LCD display modules and power supplies.
---