Alpha Wire Series V Cables: VFD and V–Flex Cables
Product Announcement from Allied Electronics, Inc.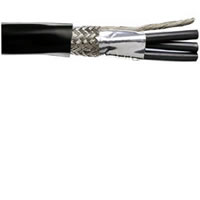 High–Performance and Reliable Connectivity
Alpha Wire's Series V cables for variable–frequency drives (VFD) set the standard in high–performance and reliable connectivity. Their specially formulated cross–linked polyethylene insulation provides superior corona resistance, low capacitance for longer runs, and excellent low–temperature properties. Series V–Flex Cable for Variable Frequency Drive (VFD) applications is specifically designed to combat the problems of system performance and signal disruption. New levels of flexibility, make routing⁄installation fast and easy. Foil/braid shielding prevents signal interference, and premium TPE jacket withstands corroding solvents and other industrial hazards. Series V–Flex Cables also handle extremely high voltage from standing waves without the corona discharges that can degrade cables and damage VFD components.
Features
Reduced chance of cable failure from voltage irregularities such as harmonics, corona discharges, and power distortion

Low capacitance for improved signal transmission over longer distances

Increased flexibility for easier routing and easier handling and reduced diameter for space savings

Double shielded for maximum EMI protection with oil–resistant PVC jacket and polyethylene insulation

Compatible with VFD drives from all major manufacturers
---