Fluke 190 Series II ScopeMeters
Product Announcement from Allied Electronics, Inc.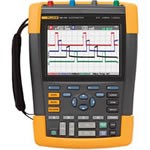 Take multiple measurements simultaneously
Fluke 190 Series II ScopeMeters® are the first four-channel, IEC61010, 1000V CATIII⁄600 V CAT IV rated portable oscilloscopes designed to be safely used on industrial equipment that is permanently installed on the electrical distribution system. For industrial electronics, four channels allows you to perform three-dimensional testing, measuring input, output and feedback signals simultaneously. These handheld, battery-operated portable instruments offer sealed, dust-proof and drip-proof cases that are IP51 rated to withstand harsh working environments. New features will help customers take on the demands of troubleshooting today's electronic systems, and enhancements, like long battery life and USB communications, will improve usability and overall customer satisfaction.
What could you do with four-channels?
Easily diagnose timing-related issues with multiple signals Find problems in industrial systems including: Diagnose VSDs or power inverters and converters
Real-time inspection of multiple related signals simultaneously
Measure a combination of input and output signals and system safety interlocks and feedback loops
Circuit voltage⁄current overloading
Attenuation⁄input impedance mismatch
Signal fluctuation⁄drift
Conditioning circuits signal integrity
Test point verification for critical signals
Input⁄output⁄feedback timing issues
Harmonics, transients and loads in three-phase power input
Troubleshoot dc to ac converters for faulty control circuits or output IGBT gate stages
Cable interface-test PWM output for reflections and transients
---