Phoenix Contact Lean Managed Switch
Product Announcement from Allied Electronics, Inc.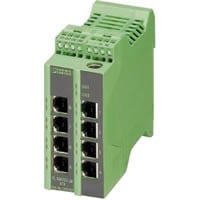 Flexible and Economical Managed Ethernet Networks
Compact lean managed switches (LM) make it possible to set up flexible and economical managed Ethernet networks in an automation environment. The huge range of connection variants and extended temperature range of –40°C to +70°C enable them to perfectly cover the requirements of industrial applications. Integrated software allows networks to be redundantly set up, diagnosed and monitored using IT standard protocols.
Features
Uninterrupted operation of automation networks – Fast redundancy switch–over
Easy monitoring and configuration of switch functions – Web–based management, SNMP and PROFINET I⁄O device functions
Maximum flexibility – Wide range of media availability
Optimum user support – Combined use of IT standards and automation protocols
---