Schneider Electric TWIDO® PLC
Product Announcement from Allied Electronics, Inc.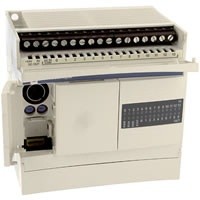 All-In-One Logic Solution
Schneider Electric's TWIDO® compact programmable controllers are an "all-in-one" solution to your logic needs. The TWIDO® is designed for simple installations and small compact machines. TWIDO® programmable controllers cover standard applications comprising 10 to 100 I⁄O (252 I⁄O maximum). Compact, simple and flexible, TWIDO® can also communicate on CANopen, Modbus and Ethernet. These controllers connect, without a power supply, to the Magelis(r) XBTN compact display⁄operator interface units. TWIDO® connects to TeSys U-Line starters for power control and ATV31 variable frequency drives for high quality performance at a very low cost.
Features
Self-configure your solution by simply adding the required I⁄O expansions (digital, analog) and options to your base equipment
Remotely monitor and control TWIDO® PLCs by communicating on industrial networks including AS-Interface (AS-i), CANopen, Ethernet, Modbus
TwidoSoft software provides fast programming in your choice of two programming languages (Ladder Logic and Instruction List)
---