TDK–Lambda Conduction–Cooled Power Supply
Product Announcement from Allied Electronics, Inc.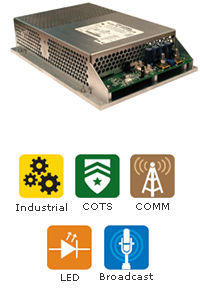 Eliminate the Need for Fans
The CPFE1000F series was designed for harsh indoor or outdoor environments and are ideal for such applications as LED signage, RF broadcast, COTS-military, noise sensitive audio⁄video equipment, food processing and other industrial⁄commercial applications. The power supply's baseplate is designed to easily attach to metal enclosures or other heat-sinking surfaces, thus eliminating the need for fans or forced-air cooling. To guard against moisture, dust and other contaminants, the internal PCB assembly has a protective coating. The CPFE1000F series of baseplate⁄conduction-cooled power supplies capable of providing up to 1000-watts without fans or forced-air cooling, thereby providing audible noise-free operation. With a baseplate and ambient operating temperature range of -40 up to +85°C this new series of AC⁄DC power supplies will be of special interest to designers who need high-power but cannot use fans, or where the power supply is mounted in an enclosure.
Features
Conduction⁄baseplate cooled for greater reliability
Internal I2C bus interface
MIL STD 461⁄462D CE102 EMC approved (military approvals)
Conformal coated internal PCB assembly
---