TDK-Lambda SWS Series Single Output Power Supply
Product Announcement from Allied Electronics, Inc.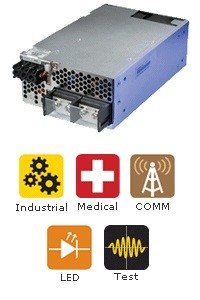 Compact and High-Powered
TDK-Lambda has expanded its successful SWS series of single output AC-DC power supplies with the introduction of the medically-approved 1000 Watt units. The SWS1000L can be supplied with the choice of a 5V, 12V, or a 24V output. The 24V model has a peak output power of 1224 Watts. The SWS1000L models have a 4-kV ac input-to-output isolation and low leakage current (< 300 µA), while retaining Class B conducted and radiated EMI performance. These high voltage isolation and low leakage specs are requirements of the medical safety standards per EN⁄UL60601-1, making these supplies ideal for applications such as automated pharmaceutical dispensers, blood analyzers, and gene⁄DNA analysis equipment.
Features
Meets medical, military, and commercial standards
Active Power Factor Correction allows power distribution to operate at its maximum efficiency
Remote on⁄off
Variable speed, temperature-controlled fans minimize acoustic noise (up to 8 dBA less than competitive units) under typical operating conditions
Additional programming pin is available allowing the output voltage to be varied from 20% -110% of the nominal output voltage
---