Tektronix Mixed Domain Scope
Product Announcement from Allied Electronics, Inc.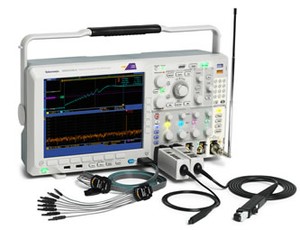 A True Industry First
The MDO4000 is the only instrument on the market today that provides complete system visualization allowing you to capture time-correlated analog, digital, and RF signals at once. It's a spectrum analyzer and mixed signal oscilloscope in one instrument. Solve the most complicated design issues quickly and efficiently with a tool as integrated as your design. The MDO4000 really does change everything!
Benefits
Time-correlated display:
See what's happening in your design at any instant with the time-correlated display of your analog, digital and RF signals.
Dedicated RF input:
Accurately analyze your RF signals with −60dBc (typical) dynamic range.
Wide-capture bandwidth:
See your whole spectrum with the ≥ 1 GHz ultra-wide capture bandwidth.
Complete systems visibility
enabling easier and faster debug⁄troubleshooting of embedded systems.
Move the spectrum time
throughout the scope acquisition, even while stopped to see how the spectrum changes over time and with other events.
Easy spectral measurements
such as on-peak amplitudes⁄frequencies as well as noise density and phase noise.

Play Tektronix Mixed Domain Scope Video
---