Product Announcement from Alpha Technologies Ltd.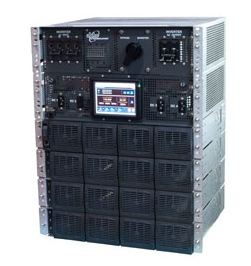 Alpha Modular Power System 24HP (AMPS24 HP)
Modular Inverter System
Single, dual and three phase configurations with up to 24kVA/19.2kW capacity
93% system efficiency for OPEX savings and reduced carbon footprint
'HP' technology delivers high efficiency, high reliability and low total cost of ownership
Intelligent system controller with integrated SNMP and ½ VGA color touch screen LCD panel for full system management, locally and remotely
High power density yields space for revenue generating equipment
System can be configured as a stand-alone high reliability UPS that includes modular 1.8kW rectifier modules for battery charging
Option for temperature compensated battery charging to maximize battery life and prevent thermal runaway
Introducing the Alpha Modular Power System 24HP (AMPS24 HP), Alpha's new high performance AC power system offering Telecom grade reliability, 93% efficiency and high power density.
Incorporating Alpha's revolutionary 'HP' technology, the AMPS24 HP combines the high reliability of a Telecom grade inverter system with the high efficiency of an AC UPS. Hot swappable 1500VA/1200W inverter modules are the building blocks of a highly flexible inverter system. Each inverter module can utilize either AC or DC sources or both, eliminating the need for a static transfer switch. Transfer between sources is 100% seamless.
Alpha's system controller with integrated Ethernet/SNMP interface monitors and manages both AC power modules and rectifier modules through a web based GUI and local ½ VGA color touch screen LCD panel. Alternately the LCD can be remote mounted.
The AMPS24 HP meets current and future power needs of Telecom, Cable and Datacenter operators by allowing you to purchase only the power modules needed for current loads while having ultimate flexibility to scale up or down, depending on future power needs. User friendly connections make the system easy to install into a 19" or 23" box bay or open relay rack. Furthermore, Alpha's hassle-free warranty and comprehensive support network make AMPS24 HP a smart investment decision.
For more information, click here.
You have successfully added from to your part list.
---