CXDS-M 1200 and CXDS-M 600/600
Product Announcement from Alpha Technologies Ltd.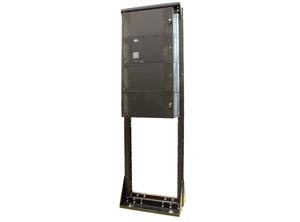 CXDS-M 1200 and CXDS-M 600/600
Modular Distribution System
The CXDS-M 1200 and CXDS-M 600/600 series are compact, high capacity distribution systems designed to be fed from a +/-24Vdc or -48Vdc power system to bring power closer to the connected equipment and increase the number of load distribution points.The system utilizes standard Cordex Power System (CXPS) components and is a perfect solution for increasing circuit count for the CXPS-D and CXPS-C systems, and other applications.
Systems are fully front accessible and can be installed in close proximity to the wall maximizing site space utilization. Oversize busswork and 25mV current shunts are used in the design to maximize operating efficiency and reduce OPEX costs.
Systems can be ordered with the class leading Cordex CXCP system controller for local and remote monitoring including SNMP alarming.
Modular distribution solution for cell site, CO, MSC, Data Center and Cable Headend facilities
Flexible single and dual feed options with a maximum rating of 1200A per feed
Compact front access design reduces floor and rack space footprint
Flexible circuit breaker, TPS and TPL fuse options ensuring a solution for all requirements
Remote access, monitoring and data logging via Cordex™ controller simplifying planning and maintenance
For more information, click here.
---