Allen-Sherman-Hoff Fly Ash System Parts
Service Detail from GE & Alstom Power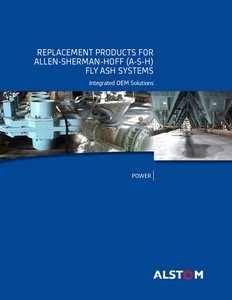 As a boiler and environmental systems OEM, Alstom is well positioned to support your need to improve the performance, reliability and availability of your Allen-Sherman-Hoff® fly ash components.
Alstom capabilities include:
Fly ash system design
Fly ash system studies
In-kind replacement components
Upgraded components
Technical Services
All parts are factory new and warranted. Our in-kind replacement parts have accurate fit, form and function. Parts are available individually, as part of a kit or included in an Inventory Management Program.
Pressure System Components
Airlocks

The airlock is the main component in a dilute phase, pressure type, pneumatic conveying system. Airlocks provide a gravity transfer of fly ash from one pressure zone to another.
Alstom provides in-kind replacement parts and upgrades for the Allen-Sherman-Hoff Style l and Style lll airlocks.
Style l Eight-Inch Airlock Deck Plate Assembly
The deck plate assembly is the primary component of the airlock and is where most wear occurs. The dimensions of Alstom's deck plate match those of the OEM and therefore the parts are interchangeable. Alstom also offers two material upgrades to increase the wear life of these components.
Style lV Airlock Conversion Kit Assembly
Alstom's Style IV Airlock Conversion Kit allows owners of Style 1 airlocks to upgrade to a self-lapping, longer lasting, round gate design without replacing the entire airlock.
The round gate design provides a tighter seal that is less likely to leak over time.
Style lll Five Inch Airlock Valve Assembly
Alstom offers replacement parts for the Allen-Sherman-Hoff Style III airlock. The Style III utilizes an aeration stone which allows air to percolate through the overhead ash and keep it fluid.
Equalizing Valves

Equilizing valves are used to pressurize and vent an airlock so that ash can flow from a lower pressure vessel to a higher pressure vessel.
Two Inch Equalizer Valve Assembly
Alstom offers replacement components and complete assemblies for the Allen-Sherman-Hoff two inch equalizer valve.
Vacuum System Components
Material Handling Valves

Material handling valves are used in vacuum systems to feed fly ash from the outlets of electrostatic precipitators, baghouses, economizers or other collection systems into a conveying line.
Type "E" Valve Assembly
Alstom offers "in kind" replacement parts and complete assemblies to replace the Allen-Sherman-Hoff Type E valve used in vacuum fly ash systems.
Type E valves can be used with abrasive powders and feature continuous horizontal discharge, a low profile design, and air cylinder operation.
Auxiliary System Components
IMPACTALLOY™ Pipe and Fittings
IMPACTALLOY™ Pipe and Fittings are used in both pneumatic and hydraulic material conveying systems.
IMPACTALLOY™ products are designed to withstand the constant impact of abrasive material within your piping system. The alloys used in the manufacturing process provide a tough, dense, close-grained structure that is highly temperature and oxidation resistant. Tensile strength
Integral Wear-Back (IWB) Fittings


One piece design
Extra thick wall in the area of highest wear provides longer life
Cast in white iron or Ni-Hard for increased wear resistanceSupplied in standard 45 and 90 elbows, laterals, and tees with custom bend angles available
Removable Wear-Back (RWB) Fittings

Two piece design
Removable wear-back located where most of the wear occurs
Replace only the wear-back; an economical choice versus a total fitting replacement
Body cast in white iron
Replaceable wear-back cast in Ni-Hard
Supplied in standard 45 and 90 degree elbows and 45 degree laterals
Line Isolation Valve Assembly
The Alstom Line Isolation Valve is a replacement for Allen-Sherman-Hoff's segregating slide valve with the additional feature of a replaceable seat.
®Allen-Sherman-Hoff is a registered trademark of Diamond Power International Inc.
© 2011 Alstom Power, Inc. Alstom, the Alstom logo, IMPACTALLOY, and any alternative versions thereof are trademarks and service marks of Alstom. All other trademarks are the property of their respective owners.

Alstom Power Inc. is not an authorized distributer or representative of Allen-Sherman-Hoff or other listed companies. The technical and other data contained in this document is provided for information only. Alstom makes no representation, warranty or guarantee (whether expressed or implied) as to the accuracy or completeness of such data or any projected performance criteria. Alstom reserves the right to review or change this data at any time without further notice.
---