Boiler Access and Observation Doors
Product Announcement from GE & Alstom Power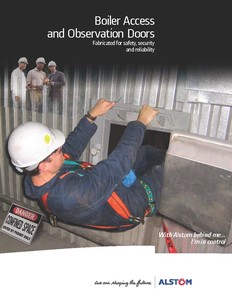 BOILER ACCESS DOORS - Fabricated for safety, security and reliability
Alstom boiler access and observation doors are available in a variety of standard shapes and sizes and fit most applications. Custom engineered designs for special requirements are also available, or we will create a new door to your specifications. Typical applications include:
Boilers (including ductwork, penthouse and dead space areas)
Heat Recovery Steam Generators (including ductwork and penthouse)
Circulating Fluidized Bed Boilers
Boiler access doors are not intended for use in pulverizer door applications. Contact your Alstom representative for information on these products. Doors can be provided:
With the seal box and offset tubes assembled in the shop
With the seal box and offset tubes loose
As a replacement door assembly only
Safe and Secure All Alstom boiler access doors are designed and fabricated to prevent accidental latching and unlatching. The positive seal and gas tight design eliminates leakage and ensures optimal thermal performance as well as personnel safety. Prior to shipping, all Alstom boiler access doors are fully assembled and tested in the shop in the vertical upright position to ensure the door opens smoothly and freely.
Reliable The quality design, material and shop fabrication methodology assures reliability and durability for all Alstom boiler access doors.
Advantages:
Door liner refractory suitable for high temperature applications
Built-in grab bar for entering and exiting
Standard sizes and shapes that fit most applications
Custom designs for specialized applications
1" positive knife seal
1" x 1" gasket
Benefits:
Reduced installation time
Reduced maintenance costs
Longer life
Improved reliability and combustion cycle efficiency
Improved safety
Can be included in Inventory Management Program
Corrosion resistant
OBSERVATION PORTS AND DOORS - Fabricated for safety, security and reliability
Alstom legacy boiler observation ports and doors are designed for easy installation and operation and can be used on any boiler type. The quality construction ensures durability and reliability. Observation ports and doors are available in a variety of sizes. Contact your Alstom representative for more information. Doors can be provided:
With the seal box and offset tubes assembled in the shop
With the seal box and off set tubes loose
As a replacement door assembly only
Advantages: (Applies to all observation ports and doors)
Allows visual confirmation of combustion during boiler operation

Standard sizes fit most applications
Components kept in inventory and available to ship within one week of receipt of purchase order
Benefits: (Applies to all observation ports and doors)
Easy installation

Easy operation

Safe and reliable
Alstom can also manufacture custom access doors to match your specifications. Alstom can take any standard door and customize it to your specific application. Customized additions can include but are not limited to the following:
Observation ports

Poke Holes
Lancing Ports
Instrumentation Ports
Contact us:
Toll Free: 1.866.257.8664
---