CA-PRO Service for Boiler Pressure Parts
Service Detail from GE & Alstom Power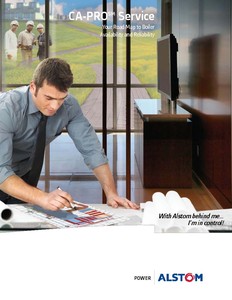 The CA-PRO Service establishes a system to document the past in an easy-to-view format in order to understand the present. Inspections and planning become less difficult to manage as the CA-PRO Service provides a solid foundation to build upon and a road map to follow in protecting valuable equipment including the entire water and steam touched surfaces from the economizer inlet to the hot reheat turbine inlet, including headers, tubing, links, leads, and piping.
Customer Benefits
CA-PRO Service will help:
• Maximize boiler reliability
• Increase plant availability
• Reduce boiler forced outages
• Increase time between outages
• Safeguard critical information
• Improved budget forecasting and maintenance planning
• Plan upgrades and retrofits
The CA-PRO Service Team
The CA-PRO Service capitalizes upon the vast resources and experience of Alstom
Condition Assessment Engineering — This group manages
the process supported by a portfolio of NDE techniques and its experience in conducting condition assessment studies.
Technical Services — This group includes a team of over 125 fieldbased
service engineers providing operational and maintenance
support.

Boiler Critical Technology — Capabilities include fatigue analysis,
fracture mechanics, finite element modeling and computational
fluid dynamics among many others

Material Critical Technology — The Center has a wide range
of expertise from tube sample analysis to microstructural
interpretation to characterization of failure mechanisms, to name
just a few.

Design Engineering — This group focuses on overall boiler design
to help ensure equipment matches operational conditions and
requirements and the changes to them.

Firing Systems Engineering — Experts in the design, operation
and maintenance of firing systems, Alstom's group understands
the effects of fuel changes and degradations on steam generation
equipment.

Boiler Retrofits — With over fifty years experience, this group
understands the requirements and challenges associated with
managing major boiler modification projects.

Customer — Alstom works closely with our customer to ensure
that accurate, complete information is gathered and appropriate
recommendations are made to meet their goals.
---