Product Announcement from Alstom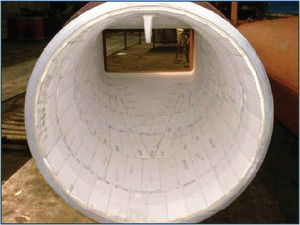 Alstom combines its expertise in power generation engineering with the experience of its supply partner in mechanically interlocked, adhesively bonded ceramics. The result is DYNAWEAR™ Products that extend component wear life and reduce maintenance.
DYNAWEAR Products are engineered for static fuel piping and burner applications involving virtually all equipment brands. DYNAWEAR Coal Nozzles incorporate high-density ceramics to provide a service life of up to 2–3 times longer than standard materials extending spans between outages and reducing your material and labor costs.
Customer Benefits
Service life 2-3 times longer than standard materials
Longer service life supports extended spans between outages
New design support system allows for nozzle adjustments from the rear of the burner compartment
Key Features
High-density, 1" thick engineered alumina tiles
Fine-grained 90% alumina with unique molecular structure
Tiles are mechanically interlocked longitudinally and circumferentially across a staggered joint layout ensuring optimum wear performance and installation integrity
Original ID of the nozzle is maintained so as to allow for direct replacement with no impact on pressure drop
Casings feature 3/8" minimum wall thickness carbon steel material and full penetration welds to meet design pressure requirements
Available with bolt on front section or one-piece welded design
New design support system allows adjustments from the rear of the compartment
Anti-roping bar available
All varieties of end connections offered including Victaulic®, flanged and split collar designs to mate to existing fuel inlet piping
You have successfully added from to your part list.
---