Non-Contact Coal Flow Monitoring System
Product Announcement from GE & Alstom Power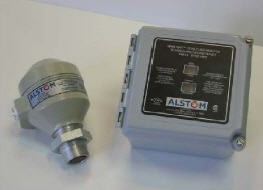 Application: Used to monitor the flow of coal exiting the coal feeder.
The LIMELIGHTTM Coal Flow Monitor is a direct replacement for the Combustion Engineering and ABB coal flow detection devices found on Combustion Engineering and Stock® Equipment Company coal feeders. The Alstom instrument is a non-contact detector utilizes a low power microwave beam to sense motion within the chute or channel. There are no moving parts nor probes that can degrade or break off in the coal flow.
Features and Benefits:
Improved sensitivity and more reliable coal detection technology.
Senses small and large particles of varying densities
Reduced maintenance with elimination of sounding rod
Quicker start-ups as self-calibration eliminates tuning
Mounting arrangement is identical to original coal flow monitor
The LIMELIGHT Coal Flow Monitor is a reliable solution to monitoring coal flow at the feeder outlet.
---