Custom Pressure Parts for Utility Boilers
Service Detail from GE & Alstom Power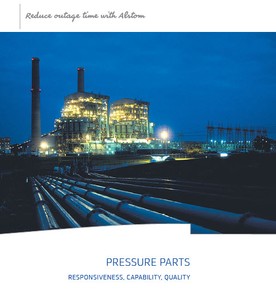 Because Alstom is one of the Largest U.S. purchasers of boiler tubing, we bundle our purchases for competitvely priced mill runs. Each of our suppliers is regularly evaluated to assure the highest quality tubing. Bottom line, a call to Alstom offers timely delivery, competitive pricing and quality products.
Responsiveness - We are on call, 24 hours a day, 7 days a week. Because we maintain strategically placed inventories at regional locations, shipments can be on the way to you within hours.
Whether you are on a scheduled or forced outage, our computerized drawing retrieval system tells us the exact details of your boiler pressure parts in an instant, so the process of getting you back on line and generating revenue starts immediately. No time is wasted searching for data. No time is wasted on the wrong tubing or parts.
Capability - From in-house fabrication of key pressure parts, to condition assessments, to outage planning, our industry leading technical teams provide the widest range of pressure parts services in the industry. We offer:
Fabrication of key pressure parts
Loose Tubes - straight or fabricated
Waterwall and burner panels
Assemblies and circuitry for superheaters, reheaters, and economizers
Tube shields, attachments and hardware
Weld overlay and thermal/abrasion coatings for increased wear protection
Complete boiler tubing replacements
Capacity - Our state-of-the-art service center in Denver, CO and our fabrication shop in Chattanooga, TN provide you with the latest fabrication techniques and the widest range of pressure parts tubing.
Quality - We take the quality of our products and services as seriously as you take your commitment to provide power and process steam to your customers. Each and every one of our tubing and pressure parts suppliers must meet our strict quality standards and, of course, ASME codes. And to make sure they do, we formally grade them on their performance and audit them on a random basis. For critical or particularly large orders, our Quality Assurance engineers are on-site with our tubing manufactorers and fabricators to assure proper quality standards are met.
Alstom has over 100 years of Boiler and Pressure Parts Experience. We offer the products, logistics, quality and technological expertise to help keep your boiler up and running. As leaders in coal-fired utility, marine and industrial power plants, we are not only dedicated to helping our customers keep the down time costs to a minimum while maximizing their profits, we have the capacity and capability to back up our commitment. We have a proud history of achievement and innovation. One call to Alstom will demonstrate why, with Alstom, you're in control and on line.
---