Diagnostic Flame Indicator
Product Announcement from GE & Alstom Power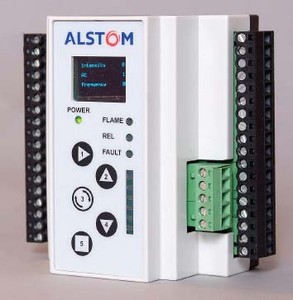 The LIMELIGHT™ Diagnostic Flame Indicator (DFI) is a state-of-the-art diagnostic flame-proving device designed for reliable and consistent operation with an ignitor. The DFI is an upgrade replacement for Limelite 2000 and Ionic Flame Monitoring (IFM) flame proving devices.
This product can be used with oil or gas ignitors in Utility, Pulp & Paper and Industrial applications.
A variety of LIMELIGHT™ DFI models are available to meet your existing mounting arrangement and the level of diagnostics desired.
Technical Highlights
The LIMELIGHT™ DFI uses advanced digital signal processor (DSP) technology. The DSP chip offers industry-leading performance of 40 million instructions per second (MIPS) enabling real time Fast Fourier Transform analysis.
The DFI records ignitor operational history so you can determine when maintenance is required at a glance. An optional control cabinet window kit is available to take advantage of this feature.
The LIMELIGHT™ is designed for easy firmware upgrades as new software functions become available.
The DFI communicates to your host computer or burner management system through industry standard interfaces. Communication among LIMELIGHT™ DFI modules is accomplished using CANbus technology. RS232 and 4 to 20 mA communication outputs are available.
The LIMELIGHT™ DFI is delivered preprogrammed, ready for a simple installation. On-site tuning will allow you to customize the DFI for optimum performance.
The DFI is designed for industrial service with a temperature rating of 70ºC / 158ºF and front-end electronics with greater immunity to noise and grounding problems.
Operating voltage on the flame rod is 40 volts DC, allowing for optimum signal to noise ratios while maintaining low rod voltage for personnel protection.
User Interface
"Power On" indicator
"Flame On" indicator
"Alarm On" indicator
0-100% bar graph for voltages and reliability history
16 character alpha-numeric display for additional diagnostics
Easy adjustment of AC and DC voltage (trip setpoints)
Security password protection
Features and Benefits
State-of-the-art technology incorporating a simple and reliable flame proving design
Upgraded replacement for Limelite 2000 and IFM flame proving devices
Delivered preprogrammed and ready for operation
Compact dimensions and quick connectors make installation into existing cabinet convenient and easy
DSP chip retains history allowing diagnostics to be performed
Designed for immunity to noise and grounding problems
16 character alpha-numeric display for quick operational review
Communications port for both PC and control systems
Built-in diagnostics enable efficient and economical equipment evaluation and maintenance for ignitor system
Increasing Your Competitive Edge
The LIMELIGHT™ Diagnostics Flame Indicator (DFI) is another example of the ALSTOM commitment to provide products and services to improve performance and reduce maintenance, with the goal of increasing your competitive edge.
---