Product Announcement from Alstom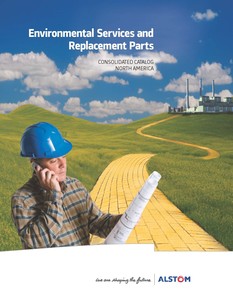 With an installed base of over 200 GW in pollution control systems, Alstom environmental technology includes innovative equipment previously sold under leading brands such as Combustion Engineering, Flakt, P.C. Walther, Carborundum and ABB. Our flexible and customized expert services cover the full flue gas line, including electrostatic precipitators, fabric filtration systems, wet and dry flue gas desulfurization systems and selective catalytic reduction.
Tightening emissions standards. Fuel switching. Emission credits. These are but a few of the issues driving the emission control strategies of our power generation and industrial power customers. And, with our unparalleled expertise in environmental services, we offer much more than just the ability to simply repair, replace or rebuild existing equipment and components. Alstom has the experience and resources you need to develop andmaintain a compliance strategy that reduces your overall operating costs while making sure you continue to meet increasingly stringent emission control standards. Simply put, Alstom is your best partner to power your environmental performance.
Technologies Served and Experience Background
Electrostatic Precipitators
Dampers
Fabric Filters
Dry Flue Gas Desulfurization
Wet Flue Gas Desulfurization
SCRs
Particulate Solutions-Electrostatic Precipitators
ESP - Electrostatic Precipitators
ESP Rebuilds and Upgrades
ESP Replacement Parts
Electronic Systems
Particulate Solutions - Fabric Filters
Fabric Filtration
Fabric Filter Controls
Particulate Monitoring Solutions
ePTFE Membrane Filter Bags
Replacement Parts
Gaseous Solutions-Selective Catalytic Reduction
Gaseous Solutions-Wet Flue Gas Desulfurization
Innovative Upgrades

WFGD Products
Gaseous Solutions-Dry Flue Gas Desulfurization
DFGD

Flex Shaft Atomizer Rebuilds

Flex Shaft Atomizer Replacement Parts
You have successfully added from to your part list.
---