Product Announcement from Alstom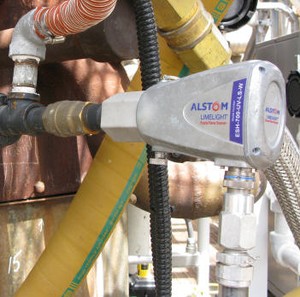 The LIMELIGHT™ Exacta™ Flame Scanner is an upgraded design for several generations of older scanners. It can be provided as an in-kind component upgrade for SAFE SCAN™ and SAFE FLAME™ Scanners or as a new complete flame scanning system.
Customer Benefits
Can be supplied as individual components for partial upgrade or as a complete new flame scanning system
Superior flame detection, reduced nuisance trips and increased sensitivity for load performance
Compatibility with previous installed flame scanners, cabling and guide pipes
Rugged design for long service life and reliability
Flame scanners are a crucial part of a boiler's safety system. They identify potentially dangerous "flame out" conditions when ignition has ceased and the continued addition of fuel could cause a furnace explosion. As such, flame scanners must be extremely dependable, perform consistently and be built for long lasting service.
Alstom has provided reliable flame detection technology for decades. The LIMELIGHT™ Exacta Flame Scanner continues that legacy while incorporating the latest in digital signal processing and communication capability. Depending on the fuel being fired, it can be provided with flame detection technology that employs any one of the following:
UV - Ultraviolet
VL - Visible Light
IR / VL - Infra Red / Visible Light
The LIMELIGHT™ Exacta Flame Scanner consists of a Flame Sensor Head (FSH) and Flame Signal Analyzer (FSA) and is available for both tangential-fired and wall-fired burner applications.
Flame Sensor Head (FSH)
The internals of the FSH are designed to be compatible with recent generations of installed flame scanners and use the same power and signal interface. This greatly simplifies installation costs. As it will be located in an area with potentially high heat exposure, the FSH of the LIMELIGHT Exacta Flame Scanner is rated at 185° F (85° C) ambient temperature. The sensor head is a NEMA 4X rated enclosure that is small enough to fit on virtually any burner.
A fiber optic cable and cable spooling housing provide flexibility for a variety of configurations. The fiber optic design allows for tilting of the burners in tilting tangential-fired applications and for mounting through the windbox in wall-fired applications. Mechanical adjustment of the fiber optic cable insertion depth is now available to assure proper lens positioning to allow for minor variations in length of an existing guide pipe assembly.
Each LIMELIGHT™ Exacta Flame Scanner Sensor Head has an indicating light on the back to display flame signal strength that flashes more rapidly as flame intensifies. This feature is used for initial installation in wall-fired applications or as a general indication of flame signal strength.
The FSH can be detached easily from the fiber optic cable for trouble shooting at the burner front. This feature also reduces the clearance required for removal in congested burner areas.
Flame Signal Analyzer (FSA)
The signal from the sensor head is processed by the Flame Signal Analyzer. The FSA is contained in a compact, din-rail mounted module that can be located near the burner or remotely near the Burner Management System (BMS). This flexible arrangement allows for re-use of existing field wiring when upgrading existing systems or the option of optimizing electrical enclosures to minimize installation cost and provide easy accessibility for maintenance.
The FSA consists of a microprocessor, signal conditioners and multiple relay outputs to provide the flame analysis and flame safety contacts for the BMS. Digital and analog signal outputs as well as serial communication and user interface are module monitors the flame signals from two flame scanners for frequency amplitude, frequency flicker and DC intensity. The two-channel approach simplifies wiring and maintenance by reducing the total number of electronics locations.
The two channels in a single FSA module can be used to:
Monitor flames from multiple burners
Monitor burner/igniter flames independently
Provide redundant flame signals per burner
Individual set points are tuned specifically for each scanner location and stored for easy recall. Multiple set points can be programmed for each channel for various operating conditions.
Key Features
Suitable for coal, oil and gas firing
Designed for use on tilting or fixed burners
Can discriminate between different fuels and loads
The FSA display is user friendly and programmable with or without PC interface
Two (2) flame/no flame set points per channel for multi-fuel analysis from a single scanner using the adjustable AC, DC and flicker frequency set points
Four (4) contact outputs and two (2) analog outputs per channel
Three (3) total serial outputs per per module for remote use of scanner information from two flame scanners that the module serves
Head and fiber optic cable quick-disconnect allows easy inspection of the cable and reduces removal clearance in tight areas
ROHS Compliant (Reduction of Hazardous Substances)
Provides for a replacement of only those parts that are obsolete
Can monitor remotely through Ethernet network
Redundant power supplies available to increase reliability
Allows re-use of existing wiring when upgrading Safe Scan or Safe Flame Scanners
Contact us:
Toll Free: 1.866.257.8664
Email: windsorparts@power.alstom.com
You have successfully added from to your part list.
---