Flame Spectrometer
Product Announcement from GE & Alstom Power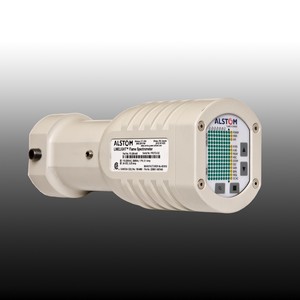 SPEED and PRECISION
Alstom offers the LIMELIGHT™ Perfecta™ Flame Spectrometer for wall mounted burner and tilting tangential fired applications.The LIMELIGHT™ Perfecta Flame Scanner is an upgrade to existing flame scanners and incorporates all signal processing electronics in one self-contained housing.
SAFETY and RELIABILITY
Flame scanners are a crucial part of a boiler's safety system. They identify potentially dangerous "flame out" conditions when ignition has ceased and continued addition of fuel could cause a furnace explosion. As such, flame scanners must be extremely reliable, rugged, perform consistently and be built for long lasting service.
FLEXIBILITY
The latest generation of LIMELIGHT™ uses sensors spread from Infrared to Ultraviolet to improve flame detection, improve the ability to distinguish one burner from another, and improve the ability to discriminate the type of fuel being burned.
Alstom continues its history of reliable flame detection technology. The LIMELIGHT™ Perfecta Flame Scanner incorporates the speed and precision of Digital Signal Processing (DSP), as well as full flame detection in seven bands. It uses the IR, Visible and UV detectors to register gas, oil and coal.
KEY BENEFITS:
Simple, efficient design provides superior flame detection, reduces nuisance trips, and enhances low load performance
Straightforward connection to the Burner Management System minimizes field wiring and installation costs
Rugged machined aluminum housing and construction for a long service life
Military–style quick disconnects allow for easy maintenance
FEATURES:
Suitable for coal, oil, and gas applications
Incorporates "next generation" flame scanner technology using the latest design for flame signatures analysis
Flame temperature measurement
Detects flame patterns across a wide range of the light wavelength spectrums (from UV to Visible to IR)
Seven (7) discreet sensors used to discriminate auxiliary fuel flames from the main fuel flame
Detects flame at lower loads to reduce the need for support fuel
Adjustable settings for both gain and filtering of the detector signals for optimum flexibility in difficult applications
Multi—load profile function to accommodate changes in plant operating conditions
Flame temperature indication and enhanced diagnostics to analyze and support burner tuning.
Commitment
The LIMELIGHT™ Flame Spectrometer is another example of the ALSTOM commitment to provide products and services to improve performance and reduce maintenance, with the goal of increasing your competitive edge.
---