Product Announcement from Alstom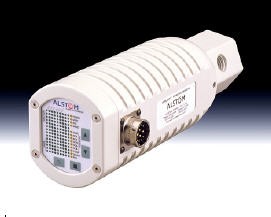 Alstom offers the LIMELIGHT™ Flame Spectrometer for wall mounted burner and tilting tangential fired applications. There are 7 sensors in each head that can view from 310 (UV for gas) to 1100 (IR for oil) Nanometers of light including all visible light ranges. In addition to this, main flame quality, auxiliary flame quality, and overall flame spectrum information is displayed.
Flame scanners are a crucial part of a boiler's safety system. They identify potentially dangerous "flame out" conditions where ignition has ceased and continued addition of fuel could cause a furnace explosion. As such they must be extremely dependable, perform consistently and be built to last to contribute to personnel safety requirements.
ALSTOM Power Inc. (ALSTOM) has provided reliable flame detection technology for decades. Our new LIMELIGHT™ Flame Spectrometer incorporates the speed and precision of Digital Signal Processing as well as full detection of infrared, visible and UV light in six bands making it what we believe to be the finest flame scanner available. Simplicity of system design reduces capital, installation and maintenance costs.
Design
The LIMELIGHT™ Flame Spectrometer incorporates all signal processing electronics in a compact housing. It contains the sensors that convert light from the flame into electrical signals. A proprietary circuit auto ranges the signal to ensure maximum signal-to-noise ratio over 5 decades of light intensity.
An integrated analog to digital converter coupled with a 0MIP Digital Signal Processor (DSP) converts the analog signals into digital signals. The DSP examines the intensity and frequency content of the flame in six light bands to determine whether flame is present.
Flame scanners operate in extremely challenging environments. ALSTOM's Digital Signal Processor is rated to operate at 185°F (85°C) with minimum cooling air requirements. A NEMA 4X enclosure provides a secure dust and water seal.
The LIMELIGHT™ Flame Spectrometer is available for "T" fired and wall fired burner applications. A fiber optic cable allows for tilting of burners in the "T" fired installations. The cable can be supplied for wall fired installations where there is a circuitous path to the burner front.
LIMELIGHT™ Flame Spectrometers are completely free standing, requiring only 115/230 VAC power. Multiple LIMELIGHT™ Flame Spectrometers can be linked together via a factory automation (CANBUS) network in order to reduce wiring and save on installation costs.
Interface to the Burner Management System (BMS) is extremely flexible. Each LIMELIGHT™ Flame Spectrometer has two programmable function relay contacts that can be directly wired to the BMS. Alternatively, a remote interface module (IM) connected to the digital network can be located near the BMS input terminals. This eliminates long wire runs from each flame spectrometer.
Each flame spectrometer network can also be linked to the plant's Digital Control System (DCS) or PC for remote viewing of real time flame conditions, setpoint changes (password protected) and maintenance diagnostics.
All LIMELIGHT™ Flame Spectrometers provide 4-20 ma output, RS-232 and CANBUS signals that can be used to monitor flame conditions.
Benefits
Simple, efficient design provides superior flame detection, reduces nuisance trips, and enhances low load performance.
Easy and straight forward connection to the burner management system minimizes field wiring and installation costs.
Rugged CNC machined aluminum housing and construction contribute to a long service life of reliable flame detection.
Military style electric quick disconnects allow for easy maintenance without wiring changes.
Features
Reliably detects flames in both T-Fired and Wall Fired Boilers
Incorporates "next generation" flame scanner technology using the latest design for flame signature analysis
Detects flame patterns across a wide range of the light wavelength spectrum (from UV to visible to ultraviolet)
Six (6) discreet sensors discriminate auxiliary fuel flames from the main fuel flames
Suitable for coal, oil or gas
Available with or without fiber optic extension for T-fired or wall-fired applications
Adjustable setting for both gain and filtering of the detector signals for optimum flexibility in difficult applications
Auto tune function automatically sets trip points based on flame frequency signature for fast commissioning
Flame spectrometer software is 100% programmable and can easily be upgraded as additional features become available
Commitment
The LIMELIGHT™ Flame Spectrometer is another example of the ALSTOM commitment to provide products and services to improve performance and reduce maintenance, with the goal of increasing your competitive edge.
You have successfully added from to your part list.
---