Gearbox Rebuilds and Repairs
Product Announcement from Alstom Power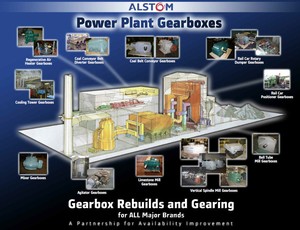 Alstom rebuilds and repairs gearboxes for not only pulverizers, but balance of plant gearboxes including:
Cooling tower gearboxes
Regenerative air heater gearboxes
Coal conveyor belt diverter gearboxes
Coal belt conveyor gearboxes
Rail car rotary dump gearboxes
Rail car positioner gearboxes
Ball tube mill gearboxes
Vertical spindle mill gearboxes
Limestone mill gearboxes
Agitator gearboxes
Mixer gearboxes
Gearboxes from the following manufacturers:
•Amarillo •Adamson United •Atlas Car •Babcock & Wilcox •Beardslee & Piper •Blaw Knox •Brad-Foote •Cleveland •David Brown •D. O. James •Dodge •Dominion •Dorstener •Ecodyne •Elliot •Falk •Farrel •Fessler •Flender •Foote/Jones •Fordees •General Electric •Hansen •Hayward Gordon •Hitachi •Kawasaki •Krupp •Link-Belt •Lohmann & Stolterfoht •Lufkin •Marley •Mesta •Morgan Construction •Morgrdshammer •Noma •NRM •Nuttall •P&H •Patterson Gear •Philadelphia Gear •Production Machinery •Renk/Tache •Sumitomo •Western •Westech •Westinghouse •Whiting •Wilson
Powering Your Plant Performance
Gearbox Rebuild Programs are another example of the Alstom commitment to provide products and services that extend equipment life cycle, improve availability and decrease the Total Cost of Ownership.
Contact Us
Toll Free: 1.866.257.8664
Email: windsorparts@power.alstom.com
You have successfully added from to your part list.
---