Griz-SAW Grinding Zone for Atrita Mills
Product Announcement from GE & Alstom Power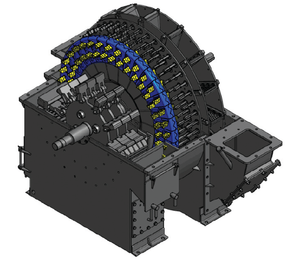 Alstom's Griz-SAW grinding zone kit more than doubles the life of wear-plates and clips.
Griz-SAW's simple installation uses serrated wear plates that are ship-lapped and bolted together through the rotor disc. This bolt-through design uses a thicker boss, reducing stress that can cause breakage. In addition, this design can hold cracked or fractured wear plates on the rotor, reducing the risk of catastrophic damage in the mill.
The Griz-SAW design utilizes less parts than the OEM equipment reducing inventory levels.* The ambidextrous plates eliminate left-hand / right-hand stocking requirements, and are easier to install.
Customer Benefits
Improves unit availability with fewer overhauls
Reduces inventory - no left hand or right hand - easy to order - faster installation
Reduces maintenance
No modifications to existing equipment required
*applies to Duplex models only
---